COMING SOON!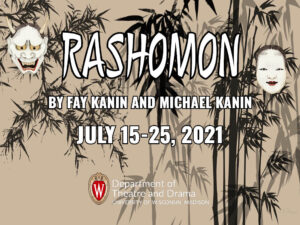 In a forest grove, a samurai is found dead, his wife assaulted, and a notorious bandit is captured. But as the mystery of the crime unfolds, witnesses tell very different stories of what happened. Based on the stories by Ryunosuke Akutagawa that were adapted into the iconic 1950 film by Japanese master Akira Kurosawa, "Rashomon" shows the elusive nature of truth.
Director David Furumoto leads cast members Nan Asuncion, Reez Bailey, Ben Delheim, Allison Hesselberg, Liam McCarthy, Ryan Siddell, John Wang, and Rae Wasson in a dramatic retelling of this influential and powerful story.
Content Warning: This play contains mature content including depictions of physical violence and sexual assault.
Please Note: Due to restrictions regarding UW campus events, seating is limited. Seating has been adapted to allow social distancing can be maintained by all those attending (vaccinated and unvaccinated). In addition, individuals who are not vaccinated should wear a face covering.
Performances will be held July 15-25, 2021 in the Ronald E. Mitchell Theatre, Vilas Hall 821 University Avenue Madison WI 53706
Tickets go on sale June 21, 2021. Call 608-265-2787 or visit Campus Arts Ticketing.
CONGRATULATIONS TO OUR 2021 GRADUATES AND SCHOLARSHIP RECIPIENTS!
Bachelor of Science in Theatre and Drama
Josie Brandmeier
Molly Frisch
Bryanna Plaisir
Joe Schwartz
Lauren Senger
Tia Vasen
Certificate in Theatre
Mariah Haase
Jakob Paquette
Eann Potter
Emily Splinter
Ali Tarawneh
SCHOLARSHIP RECIPIENTS
Catherine V. and Virginia E. Tenuta Scholarship
Megan Tennessen
Charlene M. Wackman Scholarship
Ashley Duncan, Summer Kleppek, Sydney Waler, Reina Werth
Daniel J. Travanti Scholarship
Reez Bailey
Division of the Arts Scholarship
Ethan Cash
Frederick A. Buerki Memorial Scholarship
Ethan Cash
Friends of Dennis Dorn Scholarship
Ana Gonzalez Clark
Full Compass Foundation, Inc. Scholarship
Conor Wiedenbeck
Helen K. Herman Memorial Scholarship in Theatre and Drama
Emilie Springsteen
Kaczmarek-Skloot Citizenship Prize
Audra Koscik
Katherine Buerki Scholarship
Anna Herman
Margaret E. Smith-Jane H. Butt Scholarship
Dylan Thoren
Marianne Ritis Scholarship
Ana Gonzalez Clark
Midge North Loring Scholarship
Allison Hesselberg
Ronald Mitchell Scholarship
John Wang
Ross T. Quint Memorial Scholarship
Rae Wasson
William E. Elliott Endowed Scholarship
Sarah Candee, Anna Jansson, Libby LaDue, Rebecca Parmentier