TWILIGHT BOWL

By Rebecca Gilman
Directed by Jessica Fisch
Gilbert V. Hemsley Theatre
April 11 (Preview), April 12 (Opening Night) – April 28.
Cousins Sam and Jaycee grew up together in a small Wisconsin town. Sam, who sharpened her bowling skills at the local alley, is now heading to college with a bowling scholarship. But Jaycee's future isn't looking so bright. As the young women and their friends face adulthood, the alley becomes a place to celebrate, mourn and forge new identities. But can their bonds survive even as their paths diverge? And is success always earned, or is it sometimes a matter of luck? Produced as part of the Big Ten Theatre Consortium's new play commissions by outstanding American female playwrights.
Senior Theatre major Elliott Puckette has set up a website for all the research and information she has assembled as dramaturg for TWILIGHT BOWL. Check it out here
Ticket Prices:
$10 Preview
$20 Adult
$18 Senior (62 +)
$12 Children (K-12)
$12 Group Sales (10 tickets or more)
$15 UW Students (ID)
$15 UW Faculty/Staff (ID)
Think back to high school graduation – all the possibilities ahead. And then life strikes. Check out this creative teaser by Theatre major Jake Prine illustrating this idea for Twilight Bowl.
 LITTLE SHOP OF HORRORS
Book and Lyrics by Howard Ashman, Music by Alan Menken
Based on the film by Roger Corman, screenplay by Charles Griffith
Directed by Shad Willingham, Musical Direction by Erin McConnell
Ronald E. Mitchell Theatre
September 13 (Opening Night) – September 23.
A sci-fi-horror-comedy-musical classic! Seymour, the meek employee of a struggling plant store, stumbles upon a one-of-a-kind plant that might save the shop. Naming it Audrey II, after his co-worker crush, Seymour discovers the out of this world plant can talk, sing, and has a taste for human blood! Can Seymour save the store, the girl, and, potentially, the world?
The cast features Josie Brandmeier, Patrick Collins, Faith Fuller, Ana Gonzalez, Emma Grady, Gabe Hanna, Ben Jaeger, Brette Olpin, Bryanna Plaisir, Caitlin Rowe, Cobi Tappa, Maddie Wilinski, and Sam Wood.
Ticket Prices:
$30 Adult
$25 Senior (62 +)
$15 Children (K-12)
$15 Group Sales (10 tickets or more)
$15 UW Students (ID)
$25 UW Faculty/Staff (ID)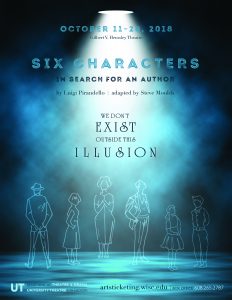 SIX CHARACTERS IN SEARCH OF AN AUTHOR

By Luigi Pirandello, Adapted by Steve Moulds
Directed by David Kersnar
Gilbert V. Hemsley Theatre
October 11 (Preview), October 12 (Opening Night) – October 28.
A troupe of actors are interrupted by a group of fictional characters, abandoned by their creator, demanding to be brought to life by a new author. The actors become swept up in the characters' melodramatic story, causing the lines between reality and fiction to blur. The original "meta" theatrical experience is given new immediacy in this contemporary adaptation crafted specifically for the UW-Madison production.
The cast features Alexandria Chapes, Camden Ebert, Jack Gammie, Allison Garfield, Bri Hunter, Philip Klinker, Mallory Lewis, Clare Loughran, Brandon Pena, Kyle Thompson, and Erin Wathen.
There will be an Opening Night reception featuring hors d'oeuvres and cash bar before and dessert after the performance Friday, October 12th.
Ticket Prices:
$10 Preview
$20 Adult
$18 Senior (62 +)
$12 Children (K-12)
$12 Group Sales (10 tickets or more)
$15 UW Students (ID)
$15 UW Faculty/Staff (ID)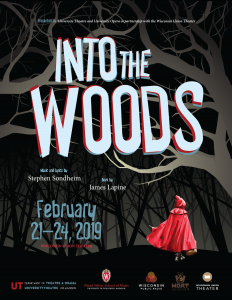 INTO THE WOODS
Music and Lyrics by Stephen Sondheim, Book by James Lapine
Directed by David Ronis
Shannon Hall -Memorial Union
February 21 (Opening Night) – February 24.
A co-production of University Theatre and University Opera in partnership with Wisconsin Union Theater, INTO THE WOODS is the celebrated musical that transcends your favorite fairy tales. Cinderella, Prince Charming, Rapunzel, Jack and the Beanstalk, Red Riding Hood, and other familiar characters find life is more complicated than "happily ever after." Featuring glorious music and lyrics by the legendary Stephen Sondheim, this is a can't miss theatrical event.
Ticket Prices:
$40 Premium Seating
$32 Adult
$25 Senior (62 +)
$15 Children (K-12)
$10 UW Students (ID)
$25 UW Faculty/Staff (ID)
See how they did it – Bryanna Plaisir shares her experience of learning to fly as the Witch